Williamsburg Cucina has arrived in Tampa, Florida! This authentic Italian Gourmet food truck started its journey as an idea in a NYC apartment and has now landed itself in the streets of Tampa to bring the fine dining Italian restaurant experience to those who haven't experienced it before.
Owners Niky and Sophia met at a Pizzeria under the Brooklyn bridge in New York City and quickly found love not only in one another but in their shared passion for food. The two crossed paths while Sophia was on vacation from Texas and Niky was visiting on a visa from Italy for boxing and training at the world famous Gleasons gym in Dumbo Brooklyn. Sophia quit her job and moved to New York and the two were to be married three months later. Niky put boxing on a hold and pursued his other passion for the food industry (his family owned the most popular gourmet deli and groceries shop in the beautifull town of Rimini, Italy). He started working and managing in some of finest Italian restaurants in Manhattan and Brooklyn including Trattoria Il Passatore, Piadina NYC, and more. While Sophia was successfully working as a published make up artist, she had deep roots in cooking from her grandfathers: one was a baker and the other served in the army as a chef. It was a few years before Niky and Sophia actually decided to pursue running their own business.
This is how Williamsburg Cucina Caffe' e Bottega was born; born out of an idea of doing something that could both display their love for good food created from amazing local ingredients while remaining true to their roots of New York and Italy. Since a regular restaurant wouldn't allow Sophia and Niky to travel the country like they wanted and showcasing authentic Italian cooking to people who couldn't access it they decided to be mobile by opening a food truck.
Williamsburg Cucina offers a different food experience from what you'd expect from the average truck. The truck's menu ranges from meat and cheese plates to artisanal open faced sandwiches such as the Caprese (toasted open faced sourdough bread with creamy burrata cheese, local roma tomatoes, wild arugula, and Modena balsamic glaze) and the Crostone Classico (with imported prosciutto, marinated artichokes, sicilian sea salt, mayo & EV olive oil). The truck also offers daily specials such as salad bowl with local greens and seasonal vegetables, pastas and sweets such as Nutella croissants and daily baked goods. Williamsburg Cucina goes beyond the typical drink fare with the additional options of imported San Pellegrino sodas, glass bottled Coke products, and local Buddy Brew Cold Brews.
The concept of this particular truck is farm to table. Because the truck serves local produce the menu changes about three to four times a year depending on their seasonal ingredients' availability. Williamsburg Cucina gets their produce from local Farms, where Sophia and Niky handpick their produce when the farmers aren't able to. The sourdough bread they utilize in their open faced sandwhiches and other dishes is another local item and is baked fresh before every food shift Williamsburg Cucina attends. See Williamsburg Cucina's current menu.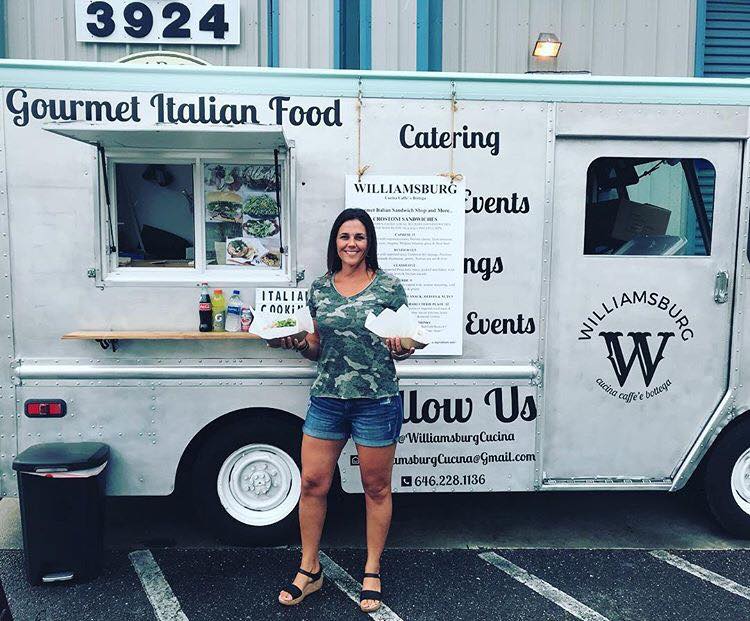 What does Williamsburg Cucina Caffe' e Bottega stand for?
Williamsburg comes from the Brooklyn's neighborhood that gave Niky and Sophia a home far from their own hometowns that influenced them with it's artistic vibe and historic surroundings.
Cucina stands for Kitchen in Italian and symbolizes the origin of their concept.
Caffe' stands for coffee and they decided to serve that because in Italy coffee symbolizes relaxation and chilling out..a moment to appreciate the small things in life.
Bottega stands for shop as they feature imported goods and handcrafted products from small family owned businesses from all over Italy.
What does Williamsburg Cucina suggest to those who've never tried food from a food truck before? Clear your mind from everything you know or expect from food truck and let the food take you for a ride. That's the only way you can truly appreciate the experience!
Interested in booking Williamsburg Cucina for your next event or wedding? Contact us today to book one of Tampa Bay Food Trucks' resident farm to table food trucks.