Tampa Bay Food Trucks
Custom Concession Trailer For Sale
Back To Food Trucks for Sale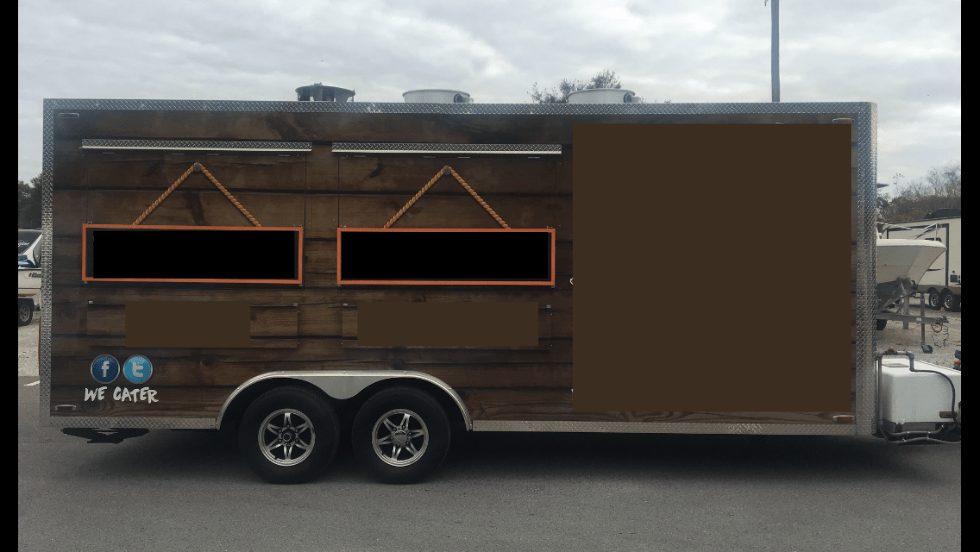 Sale Price $49,000
2016 Concession Trailer
Custom Designed throughout
Fully Self Contained
Upgraded Cummins Onan Generator
Additional Stainless shelving
11 Foot Hood
Upgraded Aluminum Wheels/8 Ply Tires, 2850 Pounds per Wheel
Fully Equipped Commercial Kitchen Allowing Unlimited Menu
See Below for Complete Detail List
EXTERIOR DETAILS
8.6' X 20' Tubular body construction
TorFlex Torsion Axles
10,500 GVW, Electric Brakes
LED Chrome lights
Rivet-less Aluminum, skin for a smooth look
7' Interior Height
15" Radial tires w/6 bolts
Trailer Plug Connector (DOT Safety Chains & Exterior Lights)
2 64"X40" Sliding Concession Windows with screens and Awnings
RV Door 32X74 with Screen
16" Lexan Marquee with LED lights for signs
2 Stainless Steel Foldable counters with brackets (12X60)
Supply Fan 2220 CFM (make up air) (NSF)
1 Pair of Leveling Scissor Jacks on Rear
2- 100pound Propane Tanks With Brackets and switch over valves
Propane 6.5 "ONAN" GENERATOR 240V Remote Panel LP
Diamond Plated Stone Guard at Front and all Corners
INTERIOR DETAILS
Rubber Floor Diamond Plated With Drain
Insulated walls and Ceiling covered with screw-less aluminum finish (stainless behind cooking equipment)
¾ Pressure treated rubber bottom plywood for under floor
Fire Extinguisher ABC Class General Purpose
1 K-Type Fire Extingusher
---
PLUMBING SYSTEM
PEX (NSF) including schedule 40 for waste and P-Trap in all sinks per code
Shurflo Industrial Water Pump with Back Flow preventer and waste water back flo preventer (NSF)
EEMAX Water Heater With Freeze Protection
3 Compartment Sink (14X16X12 each) with 12 inch drain boards and 12T Cutting board (NSF)
Hand Sink with Splash Guard on Both sides (NSF)
Wall mounted Soap and Towel Dispenser
43 Gallon Fresh Water Tank (under Trailer)
50 Gallon Waste Water Tank (under trailer)
---
ELECTRICAL SYSTEM
125 Amp Breaker Box
Commercial Rated Electrical Lines and Outlets (20amps ea. Including 2 GFI outlets as per code)
3- Four Foot Fluorescent Lighting Units
Rain Tight Power Inlet all Stainless 220V for exterior power source
50 Foot Built-in Power Extension Cord
COOKING AND COOLING SYSTEM
Stainless Steel Shelving
36" "RADIANCE" Griddle LP 66,000 BTU's
18" "RADIANCE" Broiler LP 45,000 BTU's
24" "IMPERIAL" Range 4 Burners with Pan Oven 155,000 BTU's
2-40 Pound "DEAN" Deep Fryers with covers 105,000 BTU's
20 CU FT "TURBO AIR" Refrigerator (all Stainless Steel, CSA top mounted)
20 CU FT "TURBO AIR" Freezer (all Stainless Steel, CSA top mounted)
27" "TURBO AIR" Sandwich Prep Unit
36"X30"X24" "TORTEC" Equipment Stand
"MAGIC CHEF" Stainless Steel 900 Watt Microwave
"TORTEC" Work Table 24"X48"
"TORTEC" Work Table 24"X96"
"TORTEC" Work Table 24"X30" Stainless Steel
ALL EQUIPMENT LISTED IS NSF & CSA
EXHAUST SYSTEM
11' Exhaust Hood with Fire Patrol G-Rated Filters (All stainless Steel)

2-High Speed Centrifugal Fan UPBLAST +1400CFM

All Chrome Fire Suppression System Chemical Tank Protects 2

This Concession Trailer was Custom Designed and built. Less than 1 year old. It is equipped to accommodate most menus/concepts. It has worked approximately 10-12 Events to date.

Reason for selling: Preparing to build a smaller trailer and open a small brick and mortar location.