Tampa Bay Food Trucks
Fire Engine Food Truck For Sale- $6,000 -- SOLD
Back to Food Trucks for Sale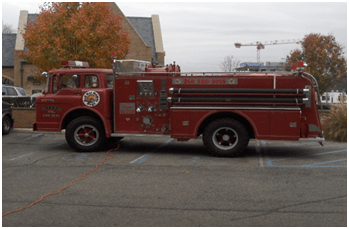 The converted fire engine and cooking equipment was licensed, certified and operating as a food truck by the Michigan Department of Health. The fire engine is a full size "pumper" truck retrofitted for food service. The water tank in the back has been removed and replaced with a food service area with the following equipment:
48" Propane 1" flat top grill/griddle with table
72 inch prep table / cutting board with refrigerator below
27" freezer
Stainless steel storage cabinet
Portable hot water unit
Steamer - Buns
Spike Toaster ("Hawaiian" Hot Dogs)
Umbrellas 9' - (including custom large umbrella for cooking area)
Awnings (for serving area and enclosed side of truck)
Generator and cables
Hot dog roller with guard/cover
Additional items (stainless and plastic serving equipment / cooking utensils/paper goods / fire bell, oversized stuffed Dalmatian, custom plastic fire hats with logo) Additionally, the webpage, and rights for the name, logo and menu will be included.
The Fire Engine:
Vintage 1969/70 FORD converted by HOWE. Registered as a historical vehicle (FL Registered)
Less than 10,000 miles and drives well.
It is 24 feet long x 10 feet wide.
Fully operational original lights, sirens and PA.
Fire Engine is wired for 120V/240V with GFCI Plugs
Fire Engine is plumbed for propane
Stainless Steel wall panels in cooking area
Lots of storage space The only items needed to launch the business in Florida
are a Florida food license and propane tanks. I can email pictures to you.