Tampa Bay Food Trucks
Florida Food Truck Builders


We offer Food Truck Fabrication and Refurbishment Services to the Tampa Bay Area and beyond
Due to an overwhelming demand in the food truck industry for quality modification and truck/trailer building our team offers full modification and fabrication services. We modify your truck or trailer to your liking to make your food truck dreams a reality. With extensive knowledge in the food truck industry we know exactly what your needs are for your truck/trailer no matter what cuisine your truck specializes in. Whether you need a full build out, refurbishment of the interior of the truck, or need a custom generator compartment - we make it happen.
Our process differs in that we are a time and material shop, we want to do things properly not just as fast as possible. Our food truck technicians work day in and day out to help you achieve your dream truck/trailer. We believe in doing it once and doing it right.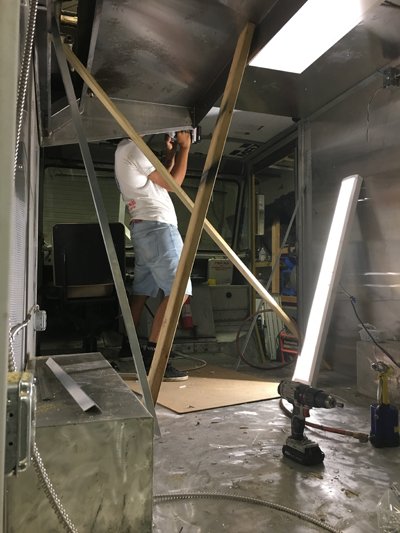 Check out our customized generator compartment and storage space! The benefit of a custom built generator compartment is that you can avoid cumbersome lifting, peace of mind in safely securing your generator from theft and storage ensures that your generator is weather safe within the trailer or truck, and the cabinet makes it super easy to handle. When using, you can pull out the generator on the frame, and turn it on.
Not quite to the point of getting your business mobile yet but considering starting a food truck business? You should attend our Food Truck Seminar. Our seminars covers everything from how to get your truck insured, how effectively market your food truck, learning about local trusted vendors, and more. Our Food Truck Seminars occur every 8 weeks in person and are offered online at any time.
Some services that we offer include:
Used Food Truck Repairs and Functionality Modifications
Used Food Truck Manufacturing

Used Food Truck Full Build-Outs

Start-Up Truck Full Builds

Existing Food Truck Repairs

Custom Generator Compartmentalization

Wrap Preparation (paint work to prepare, wheels, unwrappable surfaces and fixtures)

And MORE