Tampa Bay Food Trucks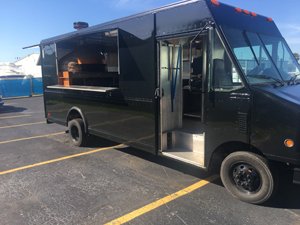 Make: Ford
Model: Utility Master
Year: 2003
Mileage: 114,700
Engine: Gas, Econoline has 351
Automatic
Generator: Champion
Granite counter on wood fired grill and on prep fridge.
Refrigeration: Make/Model and quantity: 72 inch prep station, 50 amp, custom diamond group.
4 sinks
Fresh water/Gray water storage amount.
2.5 gal on demand hot water heater. New
16 gal fresh water. New
20 gal gray water. New
50 amp. Electric
Brand new generator box with slides
Ceiling vent/fan
Top 1/2 of the rear of truck opens
Double sliding window on drivers side.
9 ft serving window
7ft serving table
24ft long
9t high
7.3 wide
Brand new rear end. Brand new leaf springs. New head gasket. All fluids flushed and new. Have all receipts and documentation
Hobart mixer
18 inc DoughExpress dough press
Dough bins
Peels