So you've decided to utilize a food truck (or food trucks!) for your special day? You've made the right choice! Despite the growing street food trend, not all wedding venues are necessarily food truck friendly. Different wedding venues have different rules and stipulations about the usage of outside caterers. Thankfully, we've done the digging for you and the 8 venues listed below have been given the Tampa Bay Food Trucks stamp of approval. We have served and successfully executed beautiful events at each of the following locations:
Did you know the club does more than just host shuffle board tournaments?! This charming venue is tucked away in Downtown Saint Petersburg on Mirror Lake Drive. The St. Pete Shuffleboard Club was established in 1923, and to this day boasts 1,200 members who utilize this 90-year-old club. Don't let the early establishment fool you, as brides and grooms alike have chosen this club for it's easily transformable space and central location. If you're looking for a nifty vintage, coastal inspired, and/or unique wedding venue - you've found it! For a sneak peek, see Orange Blossom Bride's (An Orlando based wedding directory) write up on Sarah and Bryan's wedding at the club. You can even see a food truck in action!
Wow your guests with a combination of southern charm and elegance at Stonebridge. This venue provides a picturesque rural backdrop, with over 80 acres of space. This venue offers a multitude of areas to incorporate into your event, including four different ceremony sites, separate groom and bridal suites, and two reception areas. Replete with oak trees, gazebos, Joshua trees, and the southern blue barn, this locale is bursting with beautiful photo opportunities. It has even been used as a wedding set in TV commercials. This venue is currently rated 4.7 stars out of 5 on WeddingWire.
Spanning 10 stunning acres of land, SoireEstate steals the show as one of the most romantic, picturesque venues in the Tampa Bay area. Located in Lutz just minutes from Tampa, this location provides a breathtaking locale for weddings of any size. This venue is easily adapted to suite your event's theme, whether you are leaning toward a more rustic, bohemian or glamorous vibe - all with a hint of the tropics. The space is screaming to be dolled-up with Pin-spired ideas, and has earned a solid 4 out of 5 stars on Wedding Wire.
Distressed brick and elegant architecture combine to create an unforgettable wedding location with a rich history. The Rialto Theatre opened in 1924 and closed midcentury as television and suburbanization soared after World War II. The space was re-purposed as a factory until it was shuttered once more in 2005. Today, the vintage space is being used for weddings and special events alike. With over 5,000 square feet of space, this Tampa Heights based venue is a great building to showcase your Tampa roots. There are three different main event spaces, and the building boasts 27-foot ceilings, giving your event a rich, open concept feel. Just a hop skip and a jump from Ulele, Downtown, and Seminole Heights, this venue is perfect for orchestrating a wedding weekend with multiple stops, be it your bachelor and bachelorette parties, rehearsal dinner, and/or post-wedding brunch. This venue earned 4.1 stars out of 5 on WeddingWire.
5. Tampa Bay Watch (Saint Petersburg, Florida)
Dreaming of a waterfront wedding? Think Tampa Bay Watch! This location offers a natural waterfront setting, a large deck with sunset views, close proximity to beach resorts and the airport, bamboo flooring and a neutral palette (which means lots of space to play around with and decorate!), not to mention their expansive grounds. The building is even perfectly angled to catch a classically gorgeous Florida sunset. When choosing Tampa Bay Watch as your wedding venue, you can also feel good about how your money is being spent - to benefit restoring and preserving our waterways, wildlife rescue, and educational programs. There are even two contingency plans in the event a summer shower tries to rain on your parade. This venue has earned 4.9 stars out of 5 on WeddingWire.
Casa Lantana is set on a 12 acre estate, offering a peaceful wedding and reception site. This venue is located in Central Brandon, close to I-75 and the Crosstown Expressway. This venue sets itself apart with its location and amenities including: a honeymoon suite, bridal suite, groom's suite, bed and breakfast, 3,500 square feet of air conditioned building space, and of course the buildings themselves; the Mediterranean Grand Villa and Rustic Red Wood Barn to utilize for your ceremony or reception. This venue limits their usage to one wedding per day, so your party won't be ushered off site to make way for another couple coming in immediately after. This space can be transformed for any theme you can dream up and can be as all-inclusive as you would like. This venue boasts a 5 star rating on WeddingWire.
Located in the heart of Dade City, Iola Lakeside provides a quaint, intimate setting to exchange your vows. Hold your ceremony by the lake or inside the white and brown barn, and dance the night away under the stars and Spanish moss! Iola Lakeside sits on 5 acres of lakefront property and the barn is a spacious 4,000 square feet to accommodate your guests. This venue offers a variety of packages, and clocks in at 5 starts out of 5 on Wedding Wire.
Bird Island Lake Ranch is a naturally rustic outdoor wedding venue with space for up to 300 guests. Everything from the handmade wooden benches to the fire pit surrounded by rocking chairs allows you to incorporate the feel of private, rural Florida into your special day. There are several outdoor spaces available, providing a unique location to host your ceremony or reception as well as seating, private suites and lighting all available on site. Bird Island Lake Ranch is another venue that limits the use of their grounds to one event per day. This venue has been rated 4.5 stars out of 5 on WeddingWire.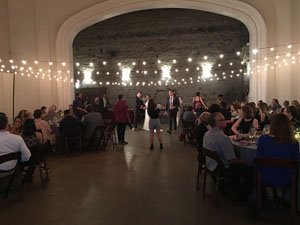 Rialto Theatre Wedding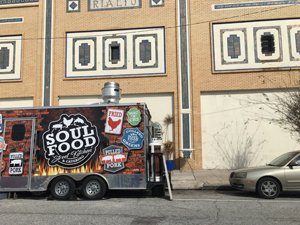 Food Truck Catering at the Rialto Theatre
Another Food Truck friendly wedding venue - Keystone Ranch in Odessa, Florida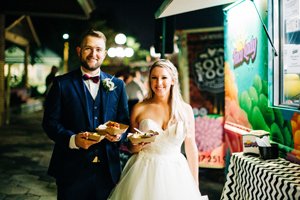 Yet another Food Truck friendly venue in Tampa, Florida - The Ybor City Muesum. Photo courtesy of Jack & Katie
Well are you ready to book a food truck for your wedding?
Contact our Wedding Specialist - Kim Sanders at 813-802-9119