1999 Food Truck for Sale (The listing for this truck has sold, see link above for avail inventory)
$60,000 (SOLD) - can be contracted to build another pizza truck.
Brand new build wood fired oven Food Truck.
1999 Freightliner diesel chassis. Very well maintained from a fleet.
This is a truly unique truck and ready for you to add your own brand.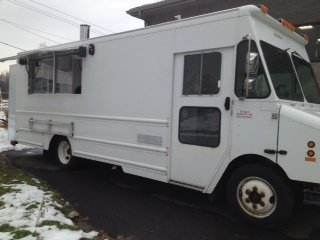 Grummon Olson step van body
Tires, breaks and trasmission all in excellent condition.
268,000 miles, however egine was replaced at 180,000 with brand new out of the crate motor
New fuel pump
17' Kitchen, 26'8" nose to tail
Equipment:
Actic Air 48" double door refridgerated prep table
Artic Air single door upright refridgerator
Royal 4 burner stove with oven
NFPA approved hood system with stainless steel baffles and large capacity upblast roof mounted exhaust fan
20 case capacity insulated ice well with hinged cover and drain
Wildwood 48" wood fired oven
Triple sleeve polished stainless steel chimney
Wood bin
Tool bin
3 compartment sink with cover
Hand sink
One demand LP water heater
Mechanicals:
6.5KW Onan Cummins LP generator with remore start
20 gal fresh water with cab mounted BIB fill
25 gal waste water tank with exterior 1/4 turn release valve
Build Details:
Three pane California turtle top skylinght with screen
Quilted stainless
steel walls Stainless steel counter tops.
Aluminum diamond plate floors and toe kicks
8' double serving window with
removable/locking panes
Hinged awning window cover with hydraulic pistons
Exterior locking pantry
Exterior vented locking propane cabinet with single 100lb tank and regulator
Waterproof exterior speakers
Exterior lights drop down hinged guest shelf
Stainless shelving on walls
Sliding doors with pin locks under cabinets
Fluorescent ceiling lighting with guards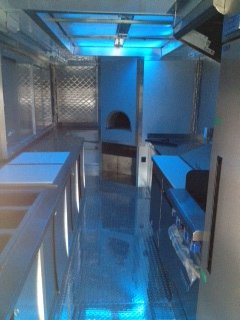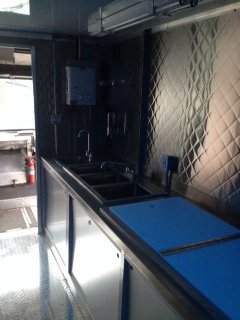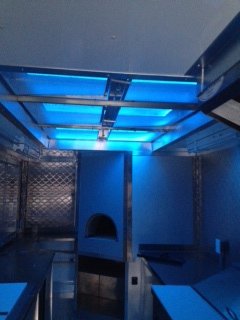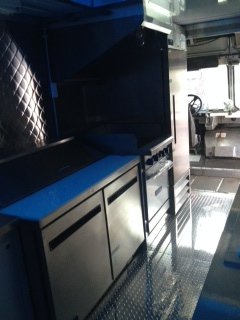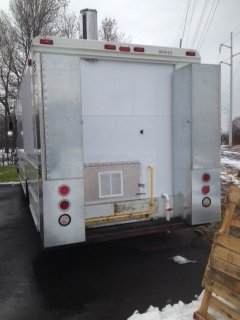 For more information on the truck please call our office at 813-802-9119!
Are you thinking about getting into the Food Truck Business? We provide a food truck seminar every 6 weeks!