Tampa Bay Food Trucks
Ice Cream Truck For Sale (SOLD)
Back To Food Trucks For sale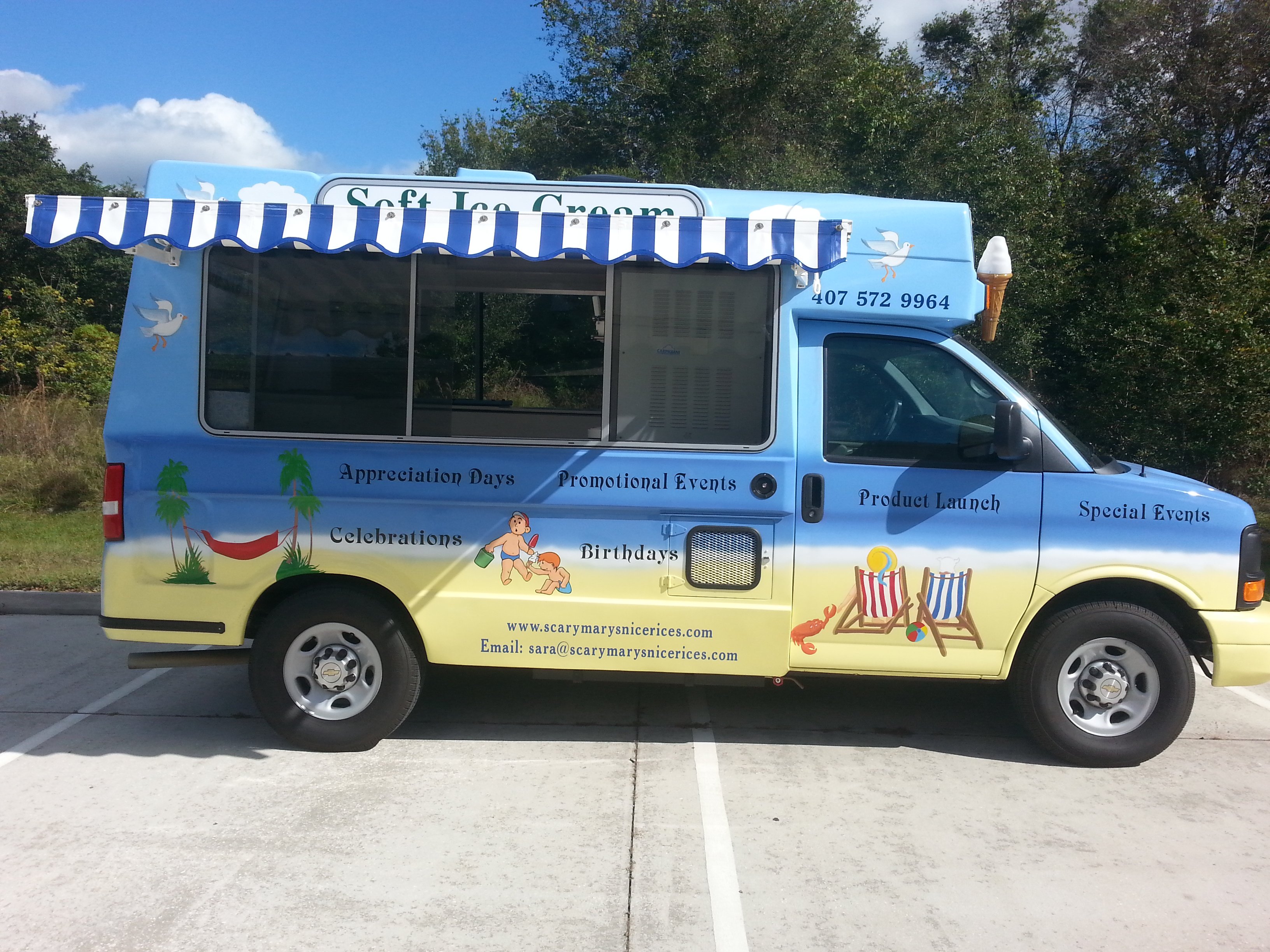 2013 2500 Express Cargo Van
Sale Price $78,000 OBO
VIN 1GCWGFCA4D1147838 air conditioning.
All GRP bodywork. 8600lb GVW

Serving windows at both sides and rear fixed window.

In polished frames, all glass is toughened and tinted.

Illuminated advertising louvers at either side and at front.

Illuminated cones either side of front louver. Interior

17 cubic foot holdover deep freezer with four flip lids for access,

Covered in white GRP.

Approx. 15 cubic foot chilled storage for mix and sodas with two

Doors and flip lid on top for access to insulated icebox.

Twin barrel high output Coldelite/Carpigiani soft ice cream freezer with power drive from vehicle engine.

Ceiling in white laminate finish.

Floor covered in heavy-duty non-slip vinyl

Hand washing sink with hot and cold water.

Shelving across rear of vehicle for cone box storage

Shelving to sides of vehicle as required.

Roof vent fitted with electric fan with variable speed and direction control.

Interior illumination with two fluorescent strip lights with diffusers.

Full partition with door separating driving position from vending area.

Triple sink unit and drainer with hot and cold water.

Cold-water tank, hot water tank and wastewater tank with drain tap.

Storage cupboard above driving position with access door.

Musical chimes fitted with control from driving position. 110v overnight refrigeration for soft ice cream freezer 1500 watt 110v inverter for blender, fudge warmers etc. Awning over serving window Will include milk shake blender with 4 mixing pots, LED sign, storage pots for toppings.