It's that time of year again- where you show your appreciation for the exceptional work your employees have put in all year long. If your company's employee appreciation events are starting to feel routine, then the time has come to shake things up! What better way to liven up the office atmosphere than with an outdoor catering event? Get your team out from behind their desks, it's time for them to stretch their legs while enjoying a variety of great food and live entertainment.
Here are few tips for hosting a successful outdoor event for your employee recognition appreciation day:
Have music/live entertainment to set the tone for a fun and relaxed event

Supply tables and chairs so employees can comfortably enjoy their food

Provide tents for shade in the event of warm and sunny weather

Utilize food truck catering for worry free yet enjoyable food service (did we mention, there is no need to pick up the food or clean up?!)

Host games to boost morale and encourage mingling (we're looking at you- separate departments J)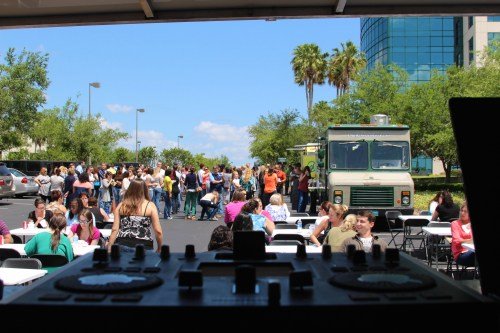 Planning an employee appreciation event is especially fun and easy when it can be managed for you at no additional cost. Can't decide if your employees would prefer BBQ or Mexican food? By selecting food truck catering over traditional catering options, you can provide both! Here at Tampa Bay Food Truck Rally we do catering right. With a huge array of cuisines to choose from, paired with our mobile DJ Truck you will have an event that the whole building will be buzzing about! By choosing Tampa Bay Food Truck Rally and employing these 5 tips for your employee appreciation day, and you will have a memorable event that your employees are sure to love and talk about for weeks to come!